The most advanced source of data for how the world works and learns
Leverage SkyHive's world-leading artificial intelligence to assess the capabilities of your workforce, identify future and emerging skills, and facilitate workforce reskilling.
Quantum Labour Analysis
Invented and Commercialized by SkyHive, Quantum Labour Analysis is the application of artificial intelligence to analyze a workforce or labour market at its most granular level - skills.
Why SkyHive?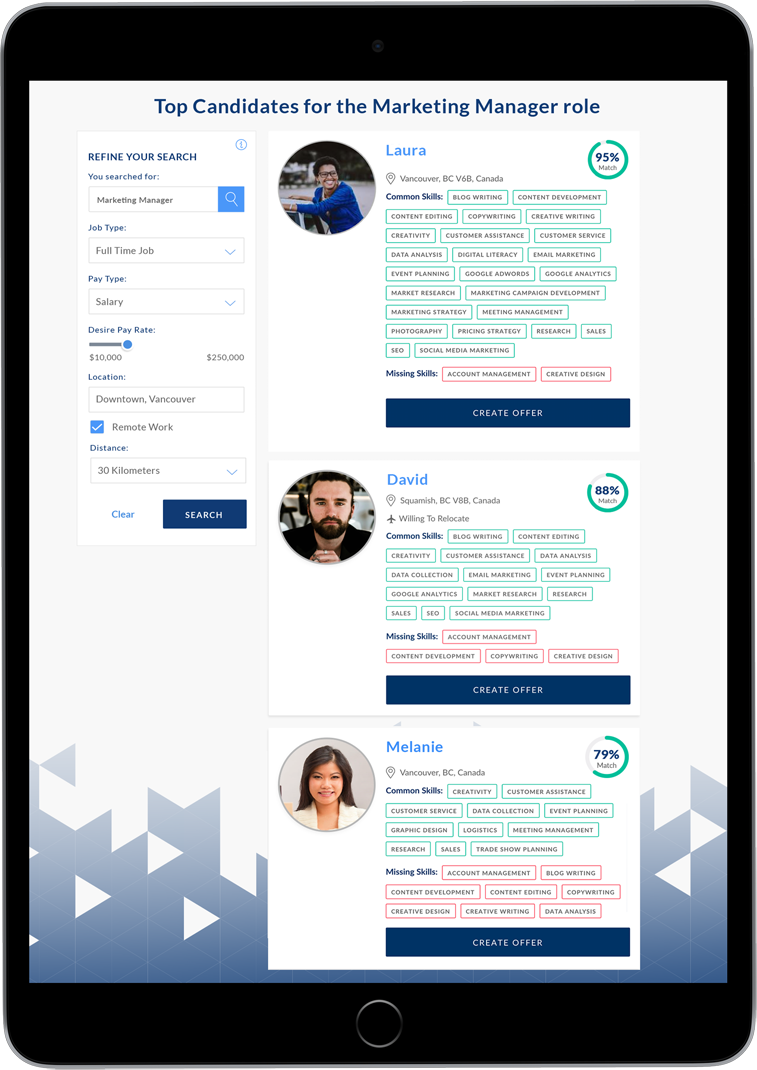 DRIVE RECRUITMENT EFFICIENCY AND ACCURACY
On average, it takes 9 days to shortlist a qualified candidate for an open position, and as much as 80% of employee turnover stems from bad hiring decisions.
By matching jobs and applicants based on skills, SkyHive automates candidate sourcing and brings forward qualified talent in real-time, reducing average time-to-hire by 30%. By integrating with Applicant Tracking Systems and scanning job boards, SkyHive automates passive candidate sourcing and drastically expands the candidate pool.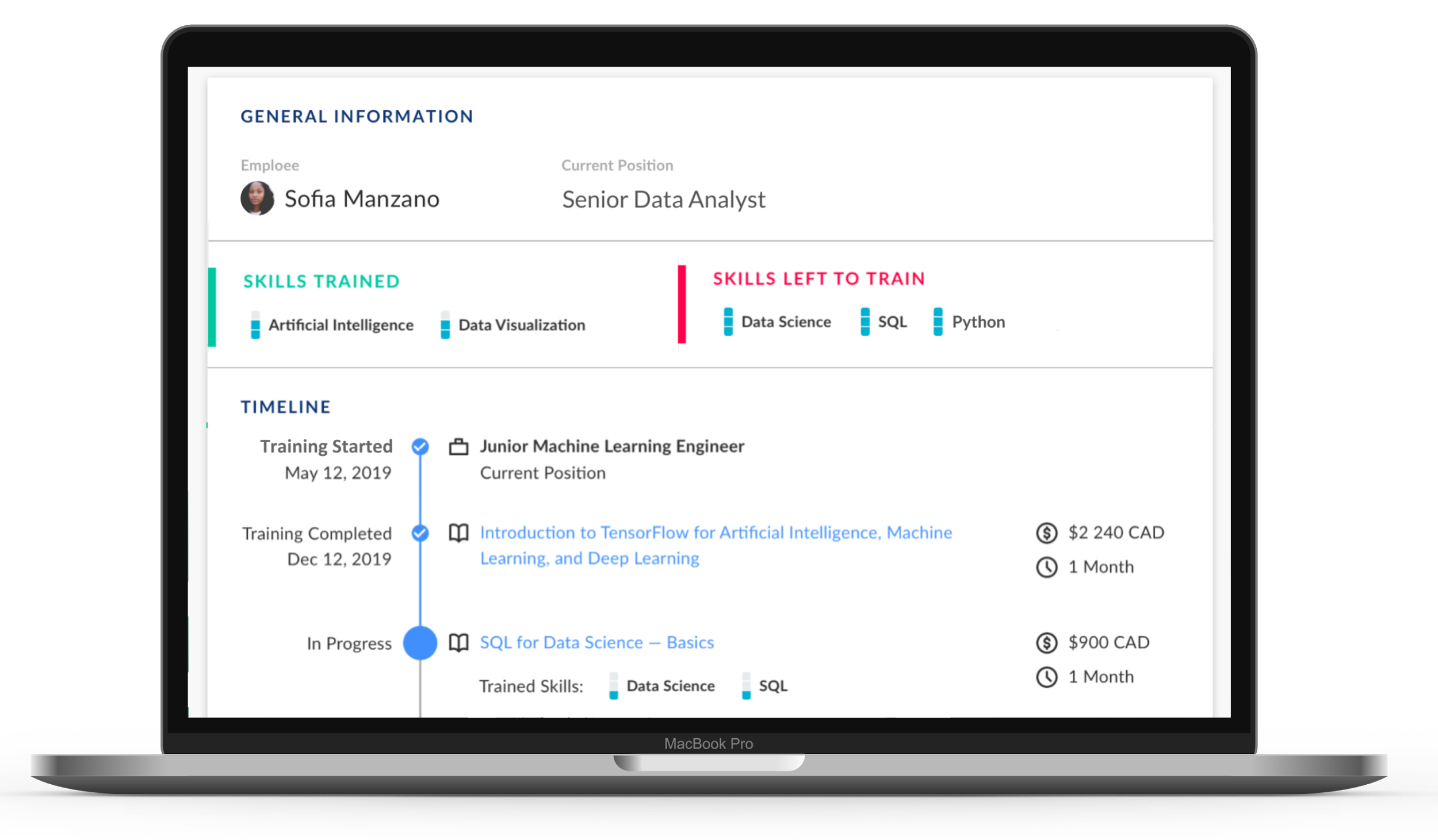 ALIGN LEARNING & DEVELOPMENT WITH SKILLS REQUIREMENTS
Companies spent an average of $1,286 a year on training per employee, yet only 12% of learners report applying the skills they've acquired to their work.
SkyHive identifies the skills an employee needs to excel, pinpoints their skills gap, then connects the individual with training that precisely corresponds to that gap. By aggregating training content from Learning Management Systems (LMS), online learning platforms, and off-platform sources, SkyHive complements existing technologies while unlocking new value from training investments.
IMPROVE RETENTION THROUGH INTERNAL MOBILITY
Today, 91% of enterprises use automation technologies. Yet, not only do 64% of executives claim that automation has failed to enhance productivity, it's causing companies to lose valuable talent at an accelerated rate.
SkyHive's Career Pathways tool allows employees to explore internal career opportunities, helps them identify hidden and adjacent skills, skills gaps to their desired roles, and targeted learning pathways and mentorships to bridge those gaps. By helping employees understand how they can progress within the company, SkyHive retains and repurposes valuable talent while boosting engagement.
TRANSFORM YOUR ORGANIZATION WITH ADAPTIVE WORKFORCE PLANNING
More than 54% of all workers will need reskilling or upskilling by 2022; Executives across the globe face an urgent need to forecast the changing requirements of the workforce to adjust quickly.
Leveraging real-time labour market intelligence, SkyHive's Workforce Planning solution helps companies understand the capabilities of their workforces, compare those to labour market benchmarks, assess future workforce requirements, and address gaps with "build, borrow, buy or bot" strategies; ensuring an agile and evolving workforce plan that adapts to the ever-changing business needs.
Enterprise Integrations
SkyHive integrates with HRIS, LMS, ATS and other HCM systems, complementing existing technologies and capitalizing on IT investments by unlocking new value from existing data never before achievable.
Unlock Workforce Potential with SkyHive Enterprise
Talent Acquisition
Pinpoint top candidates
Passive Recruitment
Broaden talent funnel
Learning & Development
Close skills gaps, fast
Workforce Planning
Meet changing needs
Internal Mobility & Retention
Individualized career pathways
Succession Planning
Rapid personnel redeployment
Diversity & Inclusion
Eliminate systemic bias
Real-time Labor Market Data
Gain competitive intelligence
Digital Transformation
Achieve automation success
Start future-proofing your workforce today.